Books are life.
Well, behind school, food, writing, tidying my flipping bedroom, blogging, going to school and-you know what, books are still life! I do promise the the series I said I'd do will be up and rolling soon. Just give me a little bit to complete actually writing and editing it from my notes.
I'm sick as the title may suggest, but I've been reading a lot. Well, actually not a lot. I've been reading for a long time but not about much or much content because me head's been getting the better of me and I've been (surprise, surprise) thinking too much! What, me? Thinking too much? Never! (Yeah right!) But, in amongst those thoughts were some happy ones (mostly) about my favourite book series! Yay, happy thoughts about books! So, this post is those books compiled into one! These are not in any order however. I will also try to block out most of the spoilers, but just proceed with caution.
Harry Potter
I've rewritten the paragraph three times. I just procrastinate on it too much and go off on stupid tangents. (Usually about the movies to the books)
These are at the top because they came as I thought of them. Uh-duh, Harry Potter is going to be on my list of top books. I mean, they are truly and utterly wonderful! I've been reading them since I was seven and I still absolutely love them and will read them at any time I do not have a book to read. I just love them all. I don't know what it is, the magic, the action? It all makes me super excited and want to read them over and over again! Or maybe it's Hermione's snarkiness towards Ron and Harry that I like? IDK, I just love the whole series. But mostly Hermione. Maybe that's why I love it because Hermione and I are so similar. Anyway, I love Harry Potter with an undying passion!
One problem, my OTP, Nuna, did not live to see the last book. 😦

*this did have Cursed Child in it but that did not count as a HP book because I rated it 2 stars and all the rest of the books at least 4 stars.

Divergent
I really, really, really enjoyed this series. It was so thrilling and amazing. I just loved it. Sadly, I think the only place I'd fit would be Erudite and that wouldn't be the flashist, would it since they [SPOILER were not exactly the best, right OVER]. But I just loved Christina and Will. They were my OTP from the whole series. Not even Four (Tobias, whatever) and Tris were better than them. But the four of those guys were my favourites! And I loved how they just followed their own rules and were willing to sacrifice so much [SPOILER aka their own lives END]. I don't know, they were just wonderful. The movies though? I think I got maybe 30 minutes (if that) into the first one before realising that Uriah was not in the movies*. What was that about?! And all I could think was that Tris was played by Shailene Woodley who also played Hazel in The Fault in Our Stars and Caleb was played by Ansel Elgort who was Gus in The Fault in Our Stars and therefore them having a brother/sister relationship in this and bf/gf relationship in The Fault in Our Stars was just slightly wrong. I'm sorry, I could just see them as Hazel and Gus! But enough about rubbish movies (it was rubbish IMHO), I just loved this series so, so, so, so, so (continue the 'so"s another million times) much!

*this took me literally, forever! this, however, did not.
Percy Jackson
Need I say any more? Percy Jackson is enough. OK.
JK! I'll write a little more. Just, I loved the whole of this series and am rereading it again. I am not saying a word about the movies though, because, just 🤢. I may vomit in the state I'm in. The books, however…oh, the feels. Silena and Beckendorf *dies of love*, just amazing couples. But Percabeth was amazing. Until that officially happened I settled for Beckelena (not Chalena, okay. When (apart from when Silena called him it) was Beckendorf called Charlie?! But call it as you will.), they were just. Too. Cute. End of. Chrisse (Clarisse and Chris) were sweet too. Maybe because they were (maybe) opposites? I liked them though.
Heroes of Olympus
Cute ships. Awesome weapons. Strong-willed heroines. Percabeth. Percy Jackson. Rick Riordan. Can I stop there? Do you get the gist of things. Anyway, if you are too stupid to realise that I loved this series and I needn't say more did not know, I loved this series so much. It was just super good and made me so happy to read. And reread. And rereread (which is totally a word, 'k). I think I've read it about 5 times and I still do not own them. My friends, do you know what I want for my birthday? I do not own any of Rick's books. Cue the thousand sad faces: :(. Cue the crying faces: 😢. Cue the extra-crying faces: 😭. The end.
I loved this series so much. I was so sad that I almost (I did not though) cried when it was finished. Now, I only did not cry because I heard that The Trials of Apollo had most of these characters in it. As did Magnus Chase. So, that was able to console me.
Ruby Redfort
Hmmmmm, what to say? *thinks for a while* Well, I loved all the rest of Lauren Child's books but I extra-super-duper-very-exceptionally-extraordinary* loved this series. I was about to say it was in my top 10! Uh-duh! But they were very good. I just need more of this to fangirl over. Luckily for you guys, I didn't have an official OTP in this book, so you don't have to deal with any of my fangirling over ships (although I can fangirl over other things!). But, just in case you were wondering, I did love LB just because she was soooooooooooooooooooooooooooooooooooooooooooooooooooooooooooooooooooooooo mysterious and cool! And also willing to sacrifice things to save others [SPOILER Baker's life to save 2,000 people END]. I just loved the whole series. The whole mystery/thriller thing, it made me so happy!
The Hunger Games
The Hunger Games. This is most certainly one of my top book series of all times. I loved the first one most I think and the second was very good but the third was slightly disappointing. Yes, it was still good but not quite as good as the rest of the series. I still loved all the books though. One big thing I will say about the series is that it definitely cleared up all the questions I was left with (or not left with because it cleared them all up!). I loved Katniss so much, just how strong she was and how she would do whatever she needed to get whatever she wanted…did that make any sense?! No? Didn't think so. But anyway, the series is amazing and I am going to reread it again this year.
All the books in this series I am going to be rereading this year. Or rerereading. Or rererererererererereading! Whatever. You get it, right.
Keeper of the Lost Cities
I only discovered this series at the end of last year and I loved it! I read the last 5 books in the series in the same number of days. I loved it so, so, so, so, so much. Right. I am super excited for Flashback in November and am in the process of earning myself the last one as soon as it comes out (AKA my parents will preorder it so I don't have to reserve it at the library. 'K.). I am so looking forward to it. Can you tell that? I will come out with a post about what needs to happen in it (spoiler: it will involve me shipping Sophitz. DO NOT MESS WITH MY SHIPPING TEAM FOSTER-KEEFE SHIPPERS. SOPHITZ FOREVER.). But anyway, I just loved this series as much as it is possibly too young for me…then again I read all sorts of ages of fantasy books. Yesh, with this out I will be happy…as long as there is NOT ANOTHER CLIFFHANGER.
Lockwood and Co.
I LOVED THIS SERIES SO MUCH. But I did say in my previous post that it needed a last book in the series. It was amazing in all though. I just loved the whole of the series but I did think that the first book was my favourite. Mmmmmm, if you've read it can you please comment so I can find a way to do a collab fangirling post. Actually, if you fangirl over any of these books maybe we can think about doing a fangirling post. Just email me on – no, just find my contact page, the address is on there.
But I loved the idea of the ghosts in the book and how they had so many different ways to 'dispose' of them. Oh, and then when George and Flo ended up together…just all the love in the series, especially the last book. But I think they should have ended up together, George and Flo. Can I just say, I liked George the best, he was my favourite character so do not say anything against against my coupling. I will get very angry with you.
The Lunar Chronicles
I loved this series too much. I think I ended up reading the 800-page Winter in about 4 days. It was super good, actually, the whole series was, it was just such a good series. I don't know what I liked best about it, the characters, the ships (Wincin), the…oh, I don't know! I loved it all. But I didn't like some of the dream casts I've heard about it, I mean, Zendaya as Winter?! That's just wrong! I don't think it should be made into a movie, it's just far too good and a movie would be likely to ruin it. All.
I can't think of much to write about it because it would take a few thousand words. But I think in brief, the best things about it were the huge battle-scenes (and yes, I did like them), the magic on Luna, oh, the amazing spaceship. IDK! I loved everything about it but because I need you all to read it I will not go all spoiler-y on you, just go out and read it all.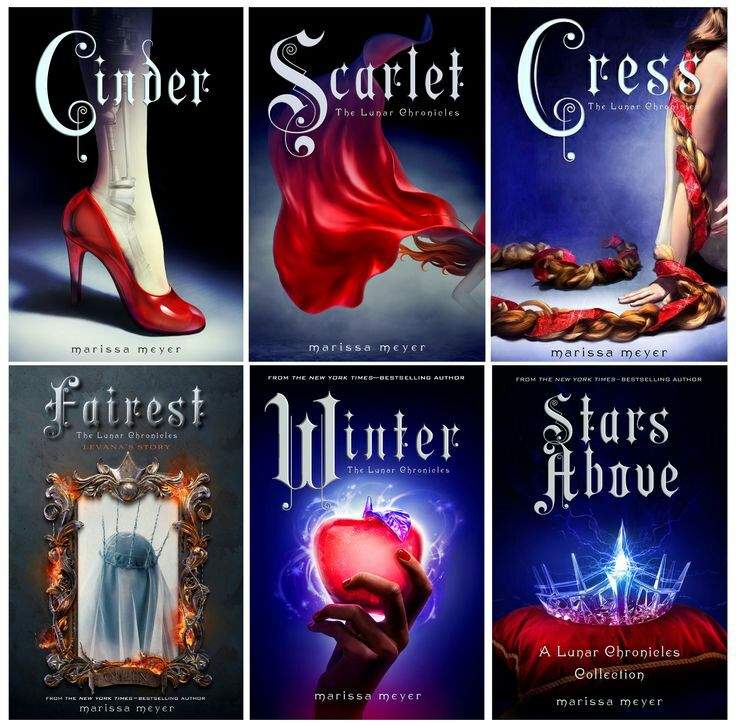 Nanny Piggins
Let's just say we all need a book of humour in our lives. Nanny Piggins is that. Pretty much, it is all about a pig who becomes the Nanny for a family of three kids in a family who's mother has died and who have a horrible, hilarious father, Mr. Green. I have to say that if you love food, humour and just full on good books then this is totally for you.
Anyway, again, just read it. I loved it. So. Much.
The end.
The end. Feel free to fangirl with me and if you would like to do a post with me and have a lot of fun feel free to contact me.
OK. Let's be honest, the end half of that post was very weird I am sorry, I wrote it about 3 days after the first half.
did you enjoy the post? d'ya agree with my picks? what are your top 10 book series of all time? will you please fangirl with me?